Feb 25, 2010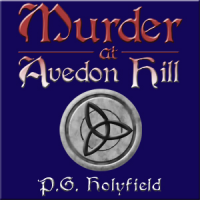 On Saturday, Feb. 27 (in two days!) Rich Sigfrit will be hosting an online auction on behalf of Tee's daughter, affectionately known as "Sonic Boom." I made a contribution to the auction:
a signed copy of Murder at Avedon Hill (when it is released in May)
a custom t-shirt with one of the Children of Az on the front, and whatever text you'd like (approved by me, of course ) on the back.
a one of a kind DVD with two of the live episodes of Tales of the Children, pop up video and text, audio commentary, and a special video message just for the buyer.
Please visit The Boom Effect for more information on this 'lot.' ( http://www.theboomeffect.org/?p=251 )
If you cannot attend the live show, you can make a proxy bid.
And if you are not blown away by this package (I am), then look over the other awesome contributions that will be auctioned off during the show.