Jul 2, 2010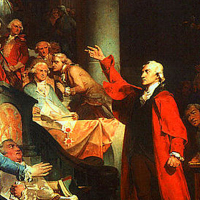 I recorded this a couple of years ago and like to pull it back out for new listeners around July 4th.
On March 23, 1775, at St. John's Henrico Parish Church in Richmond, Patrick Henry spoke to the House of Burgesses. His speech changed the minds and hearts of the Commonwealth of Virginia, and became a beacon of freedom for all of America.
Happy Independence Day, everyone.
Thank you to Nathan Lowell for his introduction at the beginning of this audio file. Be sure to check out his Golden Age of the Solar Clipper novels over at Podiobooks.com.
The image is a cropped image from Peter F. Rothermel's "Patrick Henry Before the Virginia House of Burgesses," from 1851. The photograph of this painting is released on Wikimedia Commons as a public domain work.