Apr 12, 2010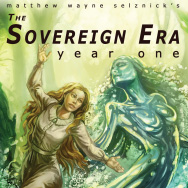 Matthew Wayne Selznick wrote a wonderful novel called Brave Men Run. In fact, it was the first podcast novel I listened to when I started listening to podcasts back in 2006. In June of 2008 (if I remember right) Matt asked if I would write a short story for a live web-a-thon he was planning to do the day of his book release. I was so excited I wrote a first draft that was almost 10,000 words… hmm… he wanted 3-4K. Oh well.
I edited it down to 5-6K, I believe. It was definitely the longest story in the web-a-thon (Matt read seven stories I believe during his live show). I was very happy with the response I received from people about the story.
Flash forward to Friday, April 10th. The text that follows if from Matt's website:
I'm very pleased to announce the release of "The Sovereign Era: Year One," an anthology of seven tales written by authors who are pretty well known in certain circles — folks like J. C. Hutchins, Mur Lafferty, P. G. Holyfield, Nathan Lowell, Matt Wallace, J. R. Blackwell and Jared Axelrod!

This collection has its origin in the all-day web-a-thon I produced on the occasion of the Swarm Press release of "Brave Men Run — A Novel of the Sovereign Era." On that day, I read each of these stories live on streaming video… but they've never been seen in print until now.

As of right now, the collection is available on this site in a bundle of eight DRM-free e-book formats and from Amazon.com for the Kindle. Soon enough, it will also be available in paperback in every online bookstore you'd care to patronize. To be honest, if you like e-books, I encourage you to purchase it in that format, since the authors involved stand to earn more of a percentage from each e-book sale.

In "Hazy Days and Cloudy Nights," we're seeing a little of what happened in the months before the Sovereign Era began. The Sovereign Era's beginnings are depicted in "Brave Men Run — A Novel of the Sovereign Era." I hope you'll purchase "The Sovereign Era: Year One" and take in seven different glimpses into how things went in the months that followed. On behalf of the authors and cover artist Jeffrey Himmelman, I thank you very much!
For those of you that haven't read Brave Men Run, it feels like a teen movie mixed with a superhero novel… The Breakfast Club and X-Men all rolled into one. Please go check out the anthology, and listen to or read Brave Men Run.
As for The Sovereign Era: Year One – electronic versions are already available for the book, and the print version should be out in a few days!