Matthew Wayne Selznick had his *Sovereign Summer.*
J.C. Hutchins gave us *Obsidian.*
Scott Sigler is building *The Crypt.*
Artus, the Child of war…
Arjun, the Child of protection…
Iruna, the Child of nobility…
Treygh, the Child of pain…
Elai, the Child of stone…
Ursala, the Child of nature…
Doppin, the Child of trickery…
Balin, the Child of love…
Kaelee, the Child of magic…
Kalin, the Child of destruction…
And Iberian, the Child of prophecy…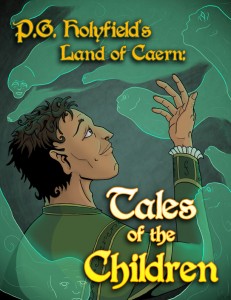 The Children of Az are the immortals that can choose to enter the Land of Caern in order to directly affect events in the world. Some of the Children were featured in Murder at Avedon Hill, while others were merely hinted at.
Starting September 9th, 2009, P.G. Holyfield, the creator and producer of Murder at Avedon Hill will bring you the next chapter in the Land of Caern universe.
Tales of the Children is a podcast anthology, with content that will focus on the history of the Land of Caern… and the Children that shaped it.
The stories in the anthology are going to feature or at least touch upon some aspect of the Children of Az. Some of these stories might be legends told by characters living today… and by today I mean during the time of Arames Kragen and Murder at Avedon Hill. They might be fables told by mothers to their children to help them sleep at night. They might be from the point of view of one of the Children, or of someone directly affected by one or more of the Children living in the world.
The podcast will feature:
new fiction by P.G. Holyfield.
contributions from some of the best names in podcast fiction!
and if you so desire… content created by you… the fans of Murder at Avedon Hill.
Who are some of the authors that have signed on to be part of this anthology?
And these aren't all… as we get closer to September I will certainly be adding to this list!
As stated above, I'm inviting you to join in the fun. There are pages on this website detailing the Children of Az and Caern's history. There is also a page that focuses on the Constraints placed on the Children by their father, Az.
There are episodes (especially #28 and #33) of Murder at Avedon Hill with legends of the Children.
If you are a writer, an artist, or a musician and are interested in being part of this podcast, send me and email or contact me on twitter or skype.
Don't delay… on 9/9/09, it all begins… and believe me… you won't want to miss it, when the Children finally come out to play.
Update: Click this link to see all related posts on Tales of the Children (audio and video podcast episodes, plus other posts).

Tales of the Children, presented by P.G. Holyfield is licensed under a Creative Commons Attribution-Noncommercial-Share Alike 3.0 United States License.
Based on a short story anthology at pgholyfield.com, set in the world of the novel, Murder at Avedon Hill.
Permissions beyond the scope of this license may be available at http://pgholyfield.com.
8 Responses to "Tales of the Children"