Aug 27, 2014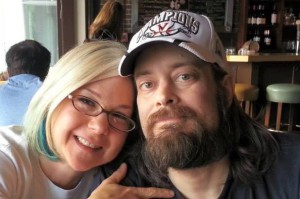 Patrick Gail Holyfield passed away on August 20th, 2014 at the age of 46 after an all too brief battle with cancer. He died in his home surrounded by friends and family.
Throughout his life, Patrick has loved sports and speculative fiction in all its forms. He grew up in Virginia and studied Religious Studies at the University of Virginia where he graduated in 1990. His degree allowed him as an author to create rich worlds with nuanced belief systems.
Professionally known as P.G. Holyfield, he authored "Murder At Avedon Hill" and numerous short stories. He received the John W. Polidori Award for Best Vampire Novel of 2010 and Best Fantasy Novel at the 2010 Foreword Book of the Year Awards.
P.G was also a well known podcaster, video producer, and voice actor. His latest works included "Beyond the Wall" and "SpecFicMedia.com Presents: Consumption".
While Patrick is best known for fiction and media work, the three creations he was most proud of were his daughters Kayla, Samantha, and Alexis. He is survived by his children, his parents Mary Jo Holyfield, Ron Holyfield, step mother Kay Williams Holyfield, his brother Mark Holyfield and sister-in-law Joan Holyfield, nephews Hunter and Austin Holyfield, aunt Darla Gail Holyfield, and his beloved Kim Herrick.
He will be missed by all, but through his creative works will live on; "You can't stop the signal."
A memorial service will be held at a later date.
Please consider donating to the Patrick G. Holyfield Childrens Trust via the badge below.