Jun 10, 2009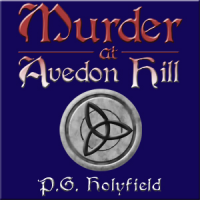 On Saturday, June 6th we had our first live Q&A show on TalkShoe. At least twenty-five people attended the show. It was a lot of fun, and we'll definitely be doing something like this again in the future.
Here are links to some of the things mentioned during the show:
Michael Spence – Brother Osric's Scriptorium
Michael is now my official biographer. He must attend any future appearance I have and do a two minute introduction to whatever room we enter.
The Red Box! – (I was wrong. From the screenshots of the different printngs, I must have gotten it in 1981)
Neverwinter Vault – You can still see the first draft of the first half of the novel deep within this site
Caern Short Stories still on Lulu (free) – Seeker and Roh-Kin
Christiana Ellis joins us for a Nina Kimberly Update!
Short discussion on the planned sequel, tentatively titled "The House that Time Forgot"
Question from Mae Breakall
Sneak Attacked by Chris Lesssssster
Tales of the Children – Short Story Anthology – More info will be posted soon!
The Caern Line – 704-315-5884
Mailing Lists/Fan Pages!

MaAH Facebook Group – http://www.facebook.com/group.php?gid=24571342195
Facebook: Fans of P.G. Holyfield – http://www.facebook.com/home.php#/group.php?gid=34095009985
Google Group – http://groups.google.com/group/fans-of-murder-at-avedon-hill?hl=en
What do you mean, you haven't written a review for MaAH on iTunes? Get to it! One more and I hit 100 reviews!
Music used in this episode: "Achaidh Cheide" – Kevin MacLeod