Jul 24, 2009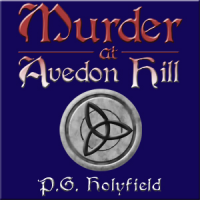 Murder at Avedon Hill has been named as a finalist in the 2009 Parsec Awards, in the category Best Speculative Fiction Audio Drama (Long Form including Independents).
From the Parsec Awards website:
The Parsec Awards are dedicated to rewarding excellence in various aspects of Speculative Fiction Podcasting. The Parsec Award is available for Sci-fi & Fantasy Original Content, podiobooks and a variety of other categories dealing with the new frontiers of Portable Media. The 4th annual Parsec Awards will be held at the Dragon*con convention held September 4 through September 7, 2009.
Before I started this project I attended the first Parsec Awards at D*C in 2006. From that moment it became one of my goals… to one day be a Parsec Awards finalist.  To have MaAH as a finalist in the Audio Drama category is a great validation of the hard work that I and so many other people put into this podcast.
Thanks to the fans that nominated Murder at Avedon Hill in the first place, and thanks to the awards committee and others that felt MaAH belonged on the short list of podcasts in this category. The other nominees:
As you know I love Chris Lester's work on the MCP podcast (damn him), and Rich Sigfrit, the driving force behind Mr. Adventure, played two roles in MaAH (Herrjarr and Kell). Mr. Adventure is a lot of fun and you should check it out.
And Mur… she is simply the best.
The only nominee I am not familiar with is The Leviathan Chronicles (other than their great promo I believe I played on my podcast). But if nothing else, check out their website. It's frakkin' awesome! I'll be listening to it before D*C, to be sure.
A lot of my friends in the podcasting world are Parsec finalists this year as well. Too many to list here, but I'm really looking forward to the ceremony to see who wins!
In the next few weeks I'll be adding audio content in the feed. Interviews mostly, with Patrick McLean, Seth Harwood, and my editor, Gabrielle Harbowy. I also plan on contacting all of my fellow nominees for something prior to September.

Thanks again, people!!

4 Responses to "Murder at Avedon Hill a Parsec Awards Finalist!"