Oct 14, 2009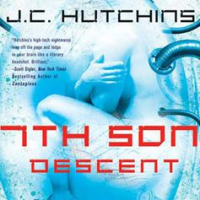 The President of the United States is dead. He was murdered in the morning sunlight by a four year-old boy.
With those first two sentences, J.C. Hutchins announced his arrival to the world of podcast fiction. And on October 27, 2009, 7th Son: Descent hits bookstore shelves and on Amazon.com.
Go here to read more about 7th Son: Descent.
This is the one I've been waiting for… I love Scott Sigler's books, and J.C.'s first book with Jordan Weisman, Personal Effects: Dark Art was a lot of fun, but 7th Son redefined storytelling for me, and on a weekly basis it made me want to be a better writer.
And finally, if it wasn't for J.C. I don't think I would have podcast Murder at Avedon Hill. So learn about 7th Son if you haven't given it a try. And if you enjoyed his podcast and want something to read while I'm editing Murder at Avedon Hill, BUY THIS BOOK.
And actually, if you haven't listened to 7th Son: Descent, J.C. has started releasing the new version of the 7th Son: Descent podcast (based on the print version of the novel).

One Response to "J.C. Hutchins – 7th Son: Descent"