Oct 19, 2009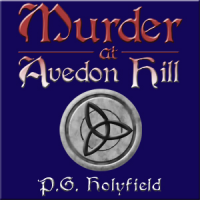 Today we have our next "Behind the Scenes" episode leading up to the print release of Murder at Avedon Hill. This is Pt.2 of my interview with Gabrielle Harbowy, my editor with Dragon Moon Press. Gabrielle was also the author of the first Tales of the Children story, "Swimming Lessons."
Excuse the low sound quality of this episode. We recorded in a room at the Atlanta Hilton during Dragon*Con and there was a lot of noise that didn't clean up very well. But it is listenable, and the interview itself turned out great.
Be sure to join in the fun on Wednesday evening, 9:30 pm Eastern, for the next vidcast on Stickam.com
Enjoy!
Blurb – Me chatting about 7th Son: Descent
Promo – J.C. Hutchins – 7th Son: Descent.
Music: Grande Rue De Pera – Ruben van Rompaey, courtesy of Magnatune.com