Nov 22, 2009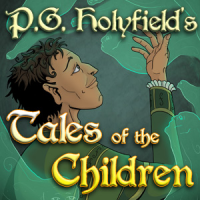 Well, I've been treated mighty nice this week by Tabz and the rest of the band of crazies over at Angel Between the Lines. Here's what's happened during the Tales of the Children/Angel Between the Lines Crossover Event:
On Wednesday evening I did a live reading of Tabitha Grace Smith's Tales of the Children story, Love's Sacrificial Song, on Stickam.com

It was my most popular live show so far, with over 200 people attending at least some part of the two hour show.
We had a live interview with Tabz after the reading.
We rolled out a brand new element to the Stickam Live Show… the DYH Drinking Game!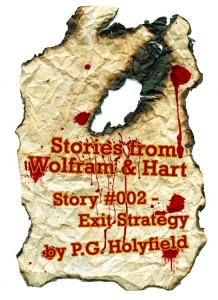 Later that night, Angel Between the Lines released my story, Exit Strategy, as a nearly hour-long full-cast audio drama.

From the description on the ABTL website: From Ocean's 11 to the Italian Job there's no lack of criminals in fiction, but Johannes Cordner needs the best. The puzzling twists and turns aren't just keeping the audience confused. Can the criminals break into Wolfram & Hart's law offices without getting caught? And what exactly are they stealing?
As always, Tabz has delivered a great production. And since this is my first fiction to hit the podosphere since May, I hope you'll give it a listen.

On Thursday, ABTL and Murder at Avedon Hill fan Dan Shaurette wrote a great feature story on me and Murder at Avedon Hill. It must have taken Dan HOURS to write that up, and I'm honored.
On Friday, ABTL released the .pdf of Exit Strategy.
What a great week (other than my laptop dying, which is another story altogether)!
Thanks again to Tabz and ABtL for such a great time. And for those that missed the live show, the audio version of Love's Sacrificial Song will be released before the end of the year.